I consider myself a low-cost alternative to a recording studio.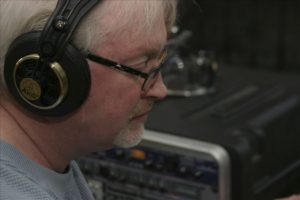 Since I don't have a fancy studio or formal training, I do not consider myself to be in competition with local recording studios. Clearly, we operate on different levels. If you want to make an album to put in the stores, you're out of my league. That's above and beyond my capabilities. Go to the professionals. On the other hand, I have done some albums which are being sold at gigs, so maybe I'm not giving myself enough credit. What I see as my targeted clientele is the musician that wants a good quality recording but doesn't have the means, or even the need, to go to a big-time studio to get it done. What I do mostly is demo recordings and albums to be sold at gigs. We can record at my house or I can come to you. Due to space limitations, we may have to record somewhere else if you require much room. I do not normally furnish instruments, but I may let you borrow a guitar and/or amp. If you want a recording made of something that is not strictly music, such as spoken word, I can do that, too. I once recorded a wedding ceremony.
Services
Audio Recordings
Demo recordings
Albums to be sold at gigs
Spoken word
Other non-music recordings
Most kinds of music EXCEPT rap and hip hop
Consultations
Do you already own a Roland VS series product and need help using it? I can help. I have experience with the Roland VS-880, VS-1680, VS-1880, and VS-1824. They may be somewhat outdated, but they're great machines once you get comfortable with them. Bring it to me or I can come to you to provide technical assistance.
Transfer records and cassettes to CD
Do you have loads of records you haven't listened to in years because you put your turntable away in permanent storage? How about cassettes that are just getting old and brittle? Many old recordings were never and never will be released on CD. I can transfer these records and tapes to CD. Are they in rough shape? It may be possible to slightly improve the sound quality (reduce tape hiss, record surface noise, equalization, etc.)
I use the following recording equipment
Recording Equipment
Roland VS-1824 18-track hard disc recorder (portable unit with built-in effects, mixer and CD burner)
Roland VS-1880 18-track hard disc recorder (portable unit with built-in effects and mixer)
Plextor CD-R burner
Roland CD-R burner
Peavey CEL 2 compressor, expander, limiter
Presonus ACP88 8-channel compressor, expander, limiter
dbx 166XL stereo compressor, expander, limiter
dbx 166A stereo compressor, expander, limiter
Microboards QD-52 CD duplicator
Behringer SNR2000 Denoiser
Yamaha MSP3 studio monitors
Aphex 107 mic preamp
ART DPS Tube mic preamp
ART Tube MP mic preamp
Studio Projects SP828 8-channel mic preamp
Microphones
3-Shure SM-57
1-AKG D112 MKII kick drum/bass mic
4-AKG C1000S condensers
2-Audio-Technica snare/tom mics
2-Audio-Technica kick/tom mics
1-AKG C3000 large-diaphragm condenser
1-GrooveTubes AM51 large-diaphragm condenser
1-CAD 844 lavalier microphone
2-Audio-Technica 3035 large-diaphragm condenser microphones
Headphones
AKG K240M
Sony MDR-7506
Audio-Technica ATH-M40fs
Vic Firth SIH1 Isolation Headphones
Behringer HA-4600 headphone amp                                                                                                              Sennheiser HD280 Pro